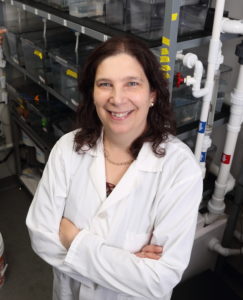 Dr Franz-Odendaal is a Full Professor in the Department of Biology at Mount Saint Vincent University, Halifax, Nova Scotia.  She started her lab at the Mount in 2006.  She is also an Adjunct Professor at Dalhousie University (Faculty of Medicine and Faculty of Science) and at Saint Mary's University (Faculty of Science).

---
She is a developmental biologist with a strong background in paleontology.  She completed all her degrees at the University of Cape Town in South Africa. Her past supervisors include Dr Susan Kidson, University of Cape Town, South Africa, Dr Anusuya Chinsamy-Turan, also from the University of Cape Town, South Africa and Dr Julia Lee-Thorpe, now at Oxford University, United Kingdom. Her post-doc supervisor was Dr Brian Hall (Dalhousie University).
She was born in Paarl, South Africa and now lives in Halifax, Nova Scotia with her husband and daughter.
---
Recent Awards:
NSERC Chair for Women in Science and Engineering (2011- present)
American Association of Anatomists Young Investigator Award in Morphological Sciences (2013)
Past Education:
Post Doc (Dalhousie University, Canada) in Evo-devo with Dr Brian K. Hall
PhD  (University of Cape Town, South Africa) in Paleontology (Zoology)
MSc (University of Cape Town, South Africa) in Developmental Biology
BSc (Med)(Hons) (University of Cape Town, South Africa) in Developmental Biology